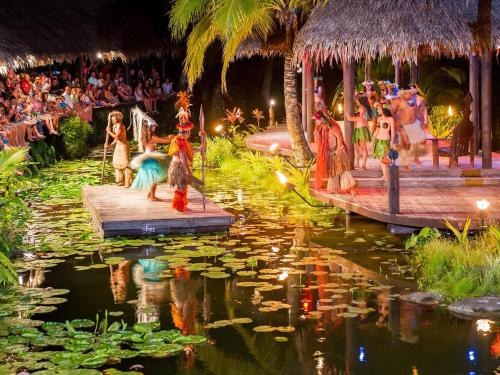 Te Vara Nui Village

Your Ultimate Experience in Cook Islands Culture!

Rarotonga's newest cultural attraction and stunning entertainment venue is an outstanding facility in Rarotonga. We are the most interactive cultural attraction offering a full authentic journey of our past. Set amongst cascades and tropical volcanic rock gardens surrounding small islands over a lake, we ensure you and your loved ones will remember this day and leave breathless.

We offer:

Cultural Village Tour of 2.5 hours starting at 5pm. A journey into our past visiting our demonstrating huts with our guides and warriors. Learn about our history, weaving, costume making, tattooing, tapa, traditional medicines, ancient fishing methods, navigation and much more.
"Ura Po" The largest cultural show 'Dances of Legends' set on floating and fixed stages over a lake surrounded by waterfalls including delicious island delicacy buffet (Umu Kai). Starts from 7.00-7.30pm
COMBO Package – 4.5 hours of ultimate cultural experience, combining both Village Tour and "Ura Po" show plus buffet. Selecting this package will also allow you to save some money, offering value to for your dollar.
Return Transfers included for our Village Tour, Ura Po and Combo Package.
Market Day

Saturday is market day at the Punanga Nui Market, which is located beside Rarotonga Wharf in Avarua town. The Market is open from 6am to about 11.30am or so (but usually starts to wind down around 11am, so we recommend you get there early!) The vibrant Marketplace offers a wide range of fresh local produce, cooked food & treats, drinking coconuts, arts, jewellery, carvings, handicrafts, T-shirts, CDs and pareus, and bands often perform live. It's a wonderfully enjoyable, colourful island market atmosphere, and well worth a visit. You can catch the Cook's Island Bus from the Lobby at The Rarotongan Beach Resort & Spa.
Church
Each Sunday Rarotonga's beautiful white coral and limestone churches fill with the soaring songs of worship of their congregations. Visitors are most welcome to attend Sunday services, but please observe appropriate modest attire of shirts and long trousers for men, and longer-length skirts or dresses for women, preferably with short or long sleeves. A bus from The Rarotongan Beach Resort & Spa leaves at 9.30am Sunday for the Cook Islands Christian Church and St Mary's Catholic Church, both in Arorangi. The bus fare is NZ$6 return, or NZ$4 one-way. A church donation will be much appreciated. At the conclusion of service you may well find yourself invited by the Pastor to enjoy island fruits and light refreshments in the nearby meeting hall with the congregation.
Raro Safari Tours
If hard trekking is not your idea of a holiday, but you're still curious to experience Rarotonga's lush rainforest interior and highlights, the 4WD Raro Mountain Safari Tour is for you. This is Rarotonga's most popular tour for good reason. Enjoy the experienced, colourful guides as they share with you their local knowledge, good humour and 'tall tales and true'. Tours depart Monday to Friday both morning and afternoon, as well as Sunday afternoons. Morning tours include a fabulous beach BBQ lunch with refreshments. Tours cost NZ$75 per adult and half price for children. Includes pick up and drop off at The Rarotongan Beach Resort & Spa
Koka Lagoon Cruises
Don't miss a fantastic day out with Koka Lagoon Cruises exploring Muri Lagoon. Make your Rarotonga holiday a memorable one, and let their multi talented crew treat you to an experience you wont forget – snorkelling amongst lagoon life or enjoying through glass bottom; non-stop entertainment with string band entertainment, pareu tying, weaving; enjoy a delicious fish bbq feast, amazing coconut tree climbing show, coconut husking and more; informative, educational, and most of all FUN for all ages. Know that a portion of your ticket also goes to a marine conservation fund. Value for money guaranteed! Private group tours for wedding/birthday groups, corporate incentive groups can be arranged.
Sunday-Friday 10am. Includes: hotel transfers, snorkelling equipment
Bring: Towels, swimwear
Click here for more information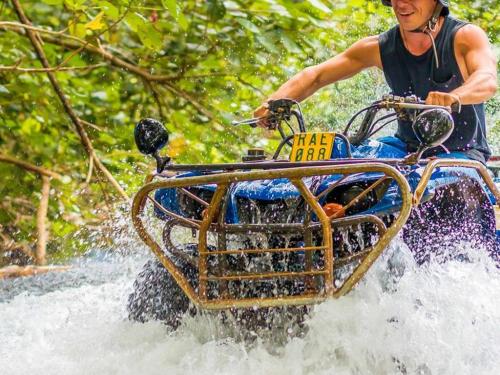 Quad and Buggy Tours
Coconut Tours offers two fantastic, exciting and exhilarating tours that are new to the island, the ISLAND BUGGY EXPLORER and JUNGLE QUAD ADVENTURE.
Both tours offers the chance of experiencing the thrills and challenges of driving your very Quad through our "jungle" or the Buggy to "hot spots" following our tour guide. No experience necessary as vehicles are fully automatic with tours guided and supervised. Vehicles also have the capacity to cater for two persons so people of all ages can be part of it. These exciting tours are for all ages, ideal for those looking to make their holiday a fulfilling and complete tropical island vacation.
Private family or group tours including wedding parties and birthday groups can be arranged and organized. Don't let anyone drive for you, DRIVE YOURSELF!
You won't have had a true holiday if you've missed out on this adventure!
Cross Island Hike
Pa's Mountain Walk offers a 4-hour Nature Walk and a strenuous 4-hour Cross Island Walk. Pa has 12 years' experience in guiding walks and has built up a worldwide reputation for the depth of his knowledge and his humour. You'll learn about local legends, fauna, flora and medicinal plants, and he is also happy to guide other walks by arrangement. Tours operate Monday, Wednesday and Friday at a cost of NZD$55pp for adults and NZD$25pp per children 12yrs and under.
Cross Island Trek update: Please note for your own safety that the Cook Islands Tourism Corporation has now issued an official warning against attempting the Cross-Island Trek without an experienced local guide. This is because the path is now thickly overgrown, and soil erosion can also make parts of it particularly hazardous, plus if you inadvertently divert to the wrong path you can find yourself walking alongside large electricity cables. Recently the Cook Islands Police were called out to rescue lost hikers whose holiday experience was somewhat marred by this event. In any case, taking along an experienced guide enriches your walk with deep local insights, knowledge and colourful yarns.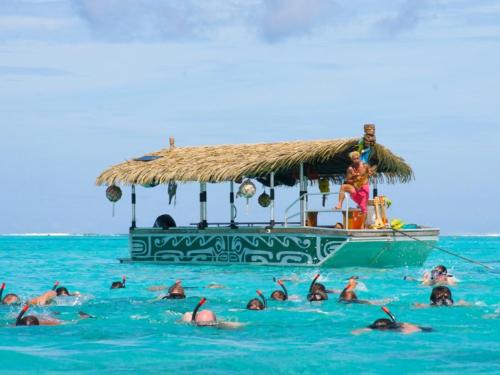 NiteLife Tour
Friday is the Big Night Out on Rarotonga, so grab your ticket on the fun bus and head out on The Rarotongan Beach Resort & Spa's NiteLife Tour to check out the island's colourful bars and hot clubs with your entertaining guide. A great way to meet the locals over a drink or on the dance floor! Precede your Rarotongan Resort NiteLife Tour with an Island BBQ & South Seas Cabaret featuring entertainment from Rarotonga's Rama Nui group, then meet the dynamic Activities Team at 8.45pm at The Rarotongan's Front Desk to begin your Friday night excitement! Bookings are essential (minimum numbers apply) and can be made through the Resort's Activities Hut. The tour costs NZ$35pp. A great night out, and great value (this way everyone in your party can have a ball and you don't need to nominate a non-drinker!).
Captain Tama's Lagoon Cruise
One of Rarotonga's popular and enjoyable tours is Captain Tama's Lagoon Cruise by glass bottom boat. This is especially ideal for young children, older people and non-snorkelers, as it gives them the opportunity of seeing some of the lagoon life without actually having to get wet! The Cruise also offers off-boat snorkelling, and a stop on one of the islets in Muri Lagoon for a fresh-fish beach BBQ lunch and refreshments. Captain Tama's Lagoon Cruise operates Monday to Saturday, 11am to 3.30pm.
Rarotonga Golf Club
The Rarotonga Golf Club welcomes visitors to play on its 9-hole course. The green fee costs NZ$20 and you can play the course twice. You can also hire a set of clubs for a further NZ$20. The golf course is open weekdays from 8am to 2pm and also features a 19th hole (the all important club bar!). Saturday is for members only and the course and club are closed on Sundays. The Rarotonga Golf Club is approximately 10 minutes from The Rarotongan Beach Resort & Spa by car.
Diving
Rarotonga's clear, warm waters with fantastic visibility and diversity of marine life make it excellent for diving and snorkelling. If you've never dived there are qualified instructors at several different dive operations around the island who can give expert tuition, and Rarotonga's lagoons are a great place to learn (sure beats your local city swimming pool!). Outside the reef there's a diverse range of diving including interesting drop-offs, a variety of hard corals, rays, sharks, turtles, whales, canyons, caves, tunnels ands shipwrecks. The reef drop-off goes from about 20-30 metres down to 4000 metres. Most diving is done at 5 to 40m where visibility is 20 to 60m (100 feet), depending on weather and wind conditions. Usual water temperatures range between 25-28 degrees Celsius. Another welcome feature of diving off Rarotonga are the short trips in purpose-built boats, often no more than 10 minutes to superb dive sites, and as the island of Rarotonga is circular there are almost always safe spots for diving with good visibility.
Game Fishing
Marlin, Wahoo, Mahimahi (Dolphin Fish), Barracuda, Sailfish, Shark and Tuna such as Yellowfin, Albacore, Dogtooth, Skipjack and Big Eye are just a few of the exciting game fish that you have the opportunity to catch while fishing in the Cook Islands. Rarotonga's waters are amongst the richest in the world and offer exceptional deep-sea game fishing, saltwater fly and light tackle sports fishing. Due to the close proximity of the reef, there are no long journeys out to deep water, and lines are set once out of the harbour ensuring maximum fishing time. Most trips are half day with prices starting from as low as NZ$80 on a boat share with 4-6 lines, and private charters can be arranged.
Catches usually remain with the boat although some companies do share it out and provide enough for dinner if the catch is sufficient. Morning trips go out at about 8am and afternoon trips at about 1.30pm.
Rarotonga has a Game Fishing Club located in KiiKii, where visitors are made very welcome. The Club is affiliated to the International Game Fishing Association, and for a small fee you can join as a social member. This is the place to relax and share in a few of the 'fish that got away' stories!
Scenic Flights
Scenic flights are a great opportunity to see Rarotonga's mountain trails and diving spots from the skies as well as a stunning view of the whole island and its majestic mountain peaks and verdant coastal plains. The minimum number of people required for the trip is 2, and the maximum allowed is 3. Flights operate daily between 9am and 2pm.
Bookings are essential and can be made through the Front Desk at The Rarotongan Beach Resort & Spa.
Takitumu Conservation Area

The Takitumu Conservation Area is on Rarotonga's south-eastern side and is managed by the traditional landowners of this district. A delightful amble into this area gets you in amongst lush tropical forest, including the Giant King Fern, giant taro, the Rarotonga orchid and rare ground orchid, wild guavas, wild hibiscus, and the prized sunset-coloured Pua Neinei (which grows only at the highest reaches and flowers mid-year). You also have the chance to see such native birds as the rare, chatty Rarotongan Flycatcher (or kakerori, which was successfully brought back from the brink of extinction), the Cook Islands Fruit Dove (kukupa), and the Rarotonga Starling (i'oi). At the top of your climb you are greeted by amazing panoramic views across the blue Pacific Ocean.
The gentle walk requires only a moderate level of fitness. Do wear good walking shoes, and take sun protection, a drink and a mosquito repellent with you (the Takitumu guides swear by their homemade recipe of half Dettol antiseptic solution, half olive oil). Return transfers and Lunch are provided. Tours operate on Tuesday and Thursday and cost NZ$45 per person, and NZ$15 for children under 16 years. Other days by arrangement for groups of 6 people or more. Please contact the Front Desk at The Rarotongan Beach Resort & Spa to make a booking.
Highland Paradise
In the early days of Polynesian settlement, villages were located not along the coast, but up in the mountains of Rarotonga. This provided better vantage points and protection against enemies, and also better protection against the ravages of high seas and high winds during storms. One such village is the Lost Village of Maungaroa ~ Highland Paradise, unearthed in 1983 by a descendant of Tinomana Ariki, the paramount chief of the district.

This "open air museum" includes such treasures as rocks of sacrifice (such as the 'Guilty Rocks') and navigational stones used to guide the vakas to Aotearoa - New Zealand. From this vantage point high up in the mountains above Arorangi village, the visitor to Highland Paradise can enjoy spectacular 180 degree views of Rarotonga, as well as 10 acres of magnificent gardens containing plants of medicinal and ritualistic significance, as well as rare introduced plants from around the world.
Highland Paradise Gardens & Marae, Tour Times: 10.00 am, 2.00 pm & 5.00 pm daily. Includes transfers, tour and lunch/dinner.
Shopping
Rarotonga is the capital of the Cook Islands, and the main township on Rarotonga is Avarua. Avarua offers such essential services as the Post Office, banks (ANZ, Westpac, Western Union and the Bank of the Cook Islands (BCI)), pharmacies, the Police Station (for your NZ$10 Cook Islands Driver's License or your scooter license), supermarkets, Punanga Nui Market for local produce and crafts, a department store, shops, cafes, bars and restaurants. Please note there are There are four ATM money machines on Rarotonga. ANZ ATM machines are located outside the ANZ Bank in Avarua town and at Wigmore's Superstore (located approximately 3km east of The Rarotongan Beach Resort & Spa, past the proposed Hilton Rarotonga hotel). Westpac has one ATM machine located outside its main branch in Avarua, as well as another located within the Oasis Energy 24-hour service station. Aitutaki also has an ATM machine on the island.
On Rarotonga, business hours are Monday to Friday from 8am to 4pm, and Saturday from around 8am til 12noon. Please note that banks close at 3pm. Westpac is the only bank that opens on Saturday mornings from 9am to 12noon for teller services only. Supermarkets are open to 4pm on Saturdays, small local grocery stores keep longer hours, usually from around 7am to approx 9pm, the Six/Eleven stores around the island are open 6am to 11pm daily, and there are also two 24/7 hour stores (one in Nikao and one in Matavera). Saturday is market day at the Punanga Nui Market (beside Rarotonga Wharf) which is open from 6am to about 11.30am or so (but usually starts to wind down around 11am - we recommend you get there early!) The market offers a wide range of fresh local produce, cooked food & treats, drinking coconuts, arts, jewellery, carvings, handicrafts, T-shirts and pareus, and bands often perform live. Almost all facilities are closed on Sundays for religious observance, or operate on restricted hours; however the Treasure Chest and CITC gift shops at The Rarotongan are open throughout the weekend.
Eating Out
Rarotonga offers an exciting array of restaurants and cafes dotted around the island. The range of cuisine varies from Italian, Indian and Japanese to seafood and everything in between. Each restaurant offers its own individual ambience perfect for relaxing at the end of another day in Paradise.