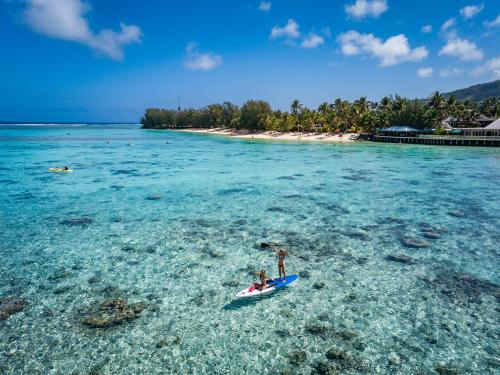 Daily & Cultural Activities
Daily Activities
Time and time again our guests remark on how much their holiday has been enriched by the warmth, friendliness, sense of fun and depth of local knowledge shared freely with them by our Activities Team members. And this too is often why they return, time and again, to The Rarotongan rather than stay at an isolated bach. Because here at The Rarotongan, you can enjoy one of the most extensive free activities programmes you are likely to find anywhere on Earth. It's all laid on, right here at The Rarotongan.
Resort Orientation – others include this as a bonus offer (!!), here at The Rarotongan, it's a given …
Snorkelling Lessons in the Pool or Lagoon – great for when you're a bit rusty, or haven't had a go before. Very patient, sympathetic instructors.
Snorkelling Safaris in pristine Aroa Lagoon Marine Reserve – it's good to go with a knowledgeable guide, then use our Snorkelling Map another time and do it your way (yip, we even publish an Aroa Lagoon Snorkelling Map – only at The Rarotongan!)
Night Snorkelling – unique to The Rarotongan, and one of our most popular and fascinating excursions
Fish Feeding – this is one of the absolute highlights for so many guests, young and young at heart! The fish are the friendliest you'll fine anywhere
Guided Kayaking Safaris – drink in some great views of the majestic mountains from Aroa Lagoon
Guided Nature & Village Walks – The Rarotongan is located in beautiful Aroa, between Rutaki and Kavera villages, well away from any other resorts or hotels. It's a picturesque little area to explore, especially when you go with someone who knows the locals and the lay of the land.
Beach Volleyball on prime Aroa Beach
Water Polo in the Waterfalls Pool
Tennis Coaching
Crab Hunting – of course we employ a catch and release system.
Crab Racing – people, they'll bet on anything!
Culture – no, this is not a code-word for boring (see below)

Check out the Activities Blackboard (located beside the Activities Hut) or your nightly Guest Newsletter for the day's schedule of activities, and enjoy! Open every day, from 8am to 6pm.
Cultural Activities
Everyone at The Rarotongan Beach Resort & Spa is very proud of our Cook Islands history, our culture, our music, our dance and our people, and we're excited to be able to share it with you as part of our Complimentary Daily Activities Programme.

Often the word 'culture' conjures up something heavy, worthy, and not very interesting. Not so in Rarotonga. Here 'culture' is another word for fun, laughter and high spirits. Nowhere on Earth will you find a people more genuinely willing to share their culture with you - in a natural, unaffected way, peppered with a lot of good humour.

Some of the highlights of our range of cultural activities include:
Coconut Show – see how the masters climb tall coconut palms (technically speaking, not 'trees'), pluck a nut and show you how to husk and open it
Ei (lei) making – In Hawaiian, a lei. In Rarotongan, an ei. Learn to make your own from fresh tropical blooms – one of our most popular activities, and you can wear it to our riveting 'Legends of Polynesia' Island Night Dinner / Show that evening.
Hura (hula) dancing – once you've seen genuine Cook Islands dancing, you'll realize why these are the best dancers in all of Polynesia, sought after around the world for 'Polynesian Shows'. You'll feel good shakin' your booty – plus you'll gain a new appreciation for just how skilled they really are. Then again, they've been doing this since before they could walk.
Log drum playing – when Cook Islanders play their drums, you can hear the heartbeat of Mother Earth. The instinctual sense of rhythm, the super-human speed of the beat – it's a sound which drives straight to your soul. They make it look natural and almost effortless. Just try it and see.
Ukelele playing – for many, the lilting island strings is like the signature sound of the South Pacific. Enjoy strumming your own island tune, your way.
Pareu tying – there's so many looks you can get from one length of fabric, why doesn't the whole world live this way? So easy, breezy and … inexpensive!
Palm frond weaving – learn how to make your own sun hat from coconut fronds
Ika Mata – learn to make the Cook Islands national dish, yum (make from the freshest tuna steeped in fresh coconut milk, onion, tomato, and a little chilli)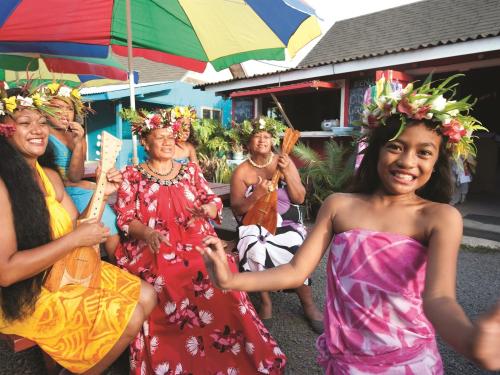 Cook Islands culture continues to be something lived and breathed by the people in their every day lives. Because most Cook Islanders speak English, it is relatively easy to gain a little insight into the richness of the culture – unlike places where there is a language barrier, or where tourists are not genuinely welcomed. Our Activities Team is always willing to share their deep love and knowledge of their culture with you as our valued guest. Immerse yourself in some wonderful aspects of exotic Cook Islands culture, and by doing so, deeply enrich your vacation experience – and have a whole heap of fun doing it!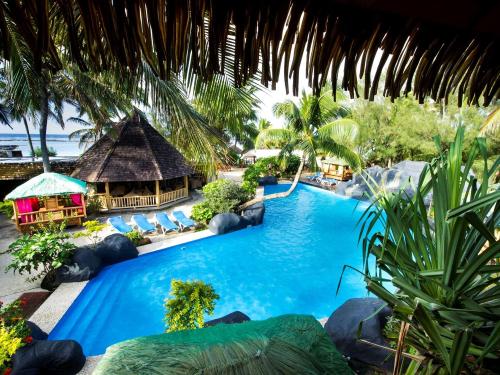 Waterfall Swimming Pool
Right beside the Activities Hut is the waterfalls swimming pool. Which is handy, as that's also right beside Aroa Beach. And because The Rarotongan is luckily located right on the sunshine southwest coast, this means there's sunshine all day on the freshwater pool, the beach, and the lagoon – right up until sunset that is (often a glorious, blazing island sunset). There's plenty of comfortable pool loungers to enjoy, so grab your complimentary pool / beach towel from the Activities Hut and make yourself comfortable for another day in Paradise. After you've soaked up some rays, take a cool dip in the pool. Someone's gotta do it.