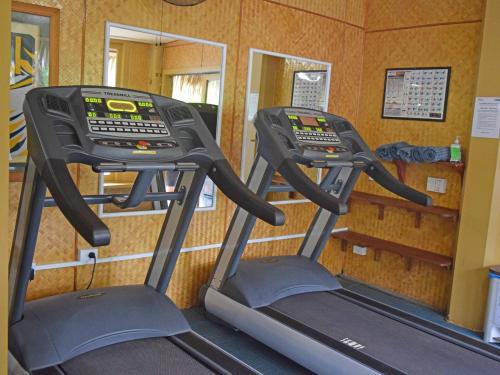 Resort Facilities
Internet Access
The Rarotongan Beach Resort & Spa offers high-speed WiFi access resort-wide, whether in your room, by the pool or around the resort. If you did not bring your device, no worries. Visit our internet booth in the Lobby. Stay in touch with your family, your friends and your business. And be sure to send them a selfie of you lounging by the pool or on Aroa Beach with your Island Girl cocktail in hand!

Health & Fitness Centre
A relaxing Cook Islands holiday awaits you at The Rarotongan Beach Resort & Spa. However, we realize that you also want access to health and fitness activities during your stay. The Rarotongan's Gym offers free weights, a large selection of machine weights, exercise balls and more.
If you want to explore the island and exercise at the same time, rent a bike and ride the Circle Island Drive, or explore some of the back roads that reveal some of the island's secret places. If tennis is your game, our Tennis Court will keep you busy. Racquets and balls are available with our compliments.
For a water-based exercise activity, grab a paddle and take out one of our stand-up paddleboards or kayaks allowing you to soak up the beauty of Aroa Lagoon while getting a great workout. And of course, taking a run on Aroa Beach beats using a treadmill inside a sweaty city gym any day of the week – plus it's great for the calf muscles and lungs!
Gym & Fitness Trail
Located adjacent to our Activities Centre, the air-conditioned Gym at The Rarotongan Beach Resort & Spa features a full array of free weights and a number of weight machines. Exercise balls are also available. The use of the Gym is exclusively for Resort guests only. An ideal combination for a full workout is the Gym along with some exercise in our great outdoors – be it our Fitness Trail, tennis, beach volleyball, stand-up paddleboarding, kayaking, outrigger canoeing, jogging along the beach or a bike ride around the island.
Tennis Court
Is tennis your game? A full-size tennis court is available at The Rarotongan Beach Resort & Spa. Complimentary tennis racquets and balls are available for your use.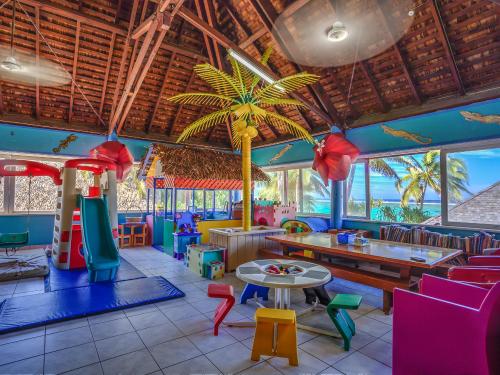 Moko's Kids Club
"I'll meet you in the Kid's Club!" is a familiar refrain heard from the children lucky enough to be staying at The Rarotongan Beach Resort & Spa. Moko's Kids Club is one of the best children's activities centres in the South Pacific. A fully-supervised, colourful and well-equipped facility, Moko's is not just a play room, but also an educational experience, where your children will learn about the unique culture and nature of Rarotonga through daily programmes of fun, hands-on activities. In the evening, Moko's hosts Kids Movie Night, allowing you the freedom to relax and enjoy a nice, quiet dinner together.
Open year-round, Monday through Saturday, 9am-12noon, 2-5pm and 7-9pm, Moko's Kids Club offers games, toys, arts and crafts, nature walks, story time, and lots more. Best of all, it's FREE to in-house guests! Kids aged up to 11 years inclusive STAY FREE and PLAY FREE at The Rarotongan Beach Resort & Spa. Under 4's PLAY FREE in the Kid's Club under the supervision of a parent or babysitter.
Club House
Moko's Kids Club, located at treetop level, is like your child's own club house. Our colourful, interactive, educational club house offers a wide range of hands-on projects. Our unique cultural activities include island 'ura (hula) dancing, log drumming, flower ei (lei) making, moko (gecko) hunting and more. You can even paint your own coconut. Kids love the extensive range of toys, books, paints and crafts, puzzles, board games, Lego, sports equipment, musical instruments, video games, and even an indoor trampoline. Kids also enjoy FREE SNACKS & DRINKS at each morning and afternoon session, and the club house has its own kids toilets and shower. Fully staffed by fun, friendly and safety-conscious club house leaders, Moko's Kids Club will be one of the highlights of your child's stay at The Rarotongan Beach Resort & Spa.
Kids Nature & Culture Activities Programme
Moko's Kids Club activities programme has been designed with your child's fun and education in mind. Our fully-staffed club house has a special Kids Nature & Culture Discover Programme that changes daily. A wide variety of activities, arts and crafts are sure to keep your child playing, learning, and happy throughout the day, with three sessions Mon-Sat - 9am-12noon, 2pm-5pm and 7pm-9pm. Your child will love the fun selection of activities including Moko's Storytime, face painting, kite making, coconut bowling, flower ei making, island dancing lessons, fish feeding and lots more. The daily activities board outside Moko's Kids Club lets you know what's happening on the day.
Clubhouse Rules
Like most clubhouses, Moko's Kids Club has its own set of rules. We ask that only children aged 11 and under be allowed in the club house. Children under age 4 can also come and play, but must be supervised by a parent or babysitter. If your young child is still in nappies, we ask that you remain available with extra nappies please. If your child has been in the pool or on the beach prior, we ask that you kindly dry them and wash off sand, so we can keep Moko's a clean, dry place for everyone. We do require that children be picked up by the end of each session, and a late fee is applicable. Moko's Kids Club is FREE to all children staying at The Rarotongan Beach Resort & Spa, where KIDS PLAY FREE!
BANANA BEACH PLAYLAND Crèche
The Rarotongan's Banana Beach Playland Crèche offers babies and toddlers 0-3 years old fun activities and more in a completely safe environment. Bookings are essential and must be made at least 24 hours in advance. Sessions are Monday-Saturday, 9am to 12noon, 2pm to 5pm, and 7pm to 9pm. The Banana Beach Playland Crèche provides babies and toddlers with a fantastic range of toys, baby cots and more, all under the supervision of our friendly staff at The Rarotongan Beach Resort & Spa.
Let your little one be taken care of by our friendly staff at The Rarotongan, who will ensure your baby is kept happy with activities, naps, diaper changes and more all in a completely safe environment. NZ$45 a session.
Gift Shops
Need sun screen, lotions, sun burn cream, soft drinks, snacks and more? The Rarotongan Beach Resort & Spa has two handy stores with a wide range of goods including those small but important necessities of life, plus local Cook Islands souvenirs such as a great collection of t-shirts, sundresses, postcards, locally-made soaps and lotions, hand-made crafts, wood carvings, and more.
Business Centre
Our centrally-located Business Centre is ready to assist with your business requirements such as with any photocopying, typing and faxing services you may require during your stay, and of course the entire resort is Wi-Fi accessible.
Tours
Rarotonga has so much to offer, and your stay at The Rarotongan Beach Resort & Spa should include some of the many Tours that highlight the beauty of the island and show off the wonderful Cook Islands culture. Visit the Cultural Village and see how life in Rarotonga used to be, or hop aboard one of the fun 4WD jeeps for an exciting and adventurous Raro Mountain Safari Tour. A great way to experience the fantastic lagoon is aboard Captain Tama's Lagoon Cruise. If you want to experience nature first hand, consider visiting the Takitumu Conservation Area, or join Pa, a famous Rarotongan mainstay, for one of his Cross Island Treks. Whatever you want to do, whatever you want to see, Rarotonga's riches await.
Adventures
If it is adventure you seek during your stay at The Rarotongan Beach Resort & Spa, then adventure you will find. The sea beckons, and what better way to experience it than both above and below the water. Deep Sea Fishing takes you beyond the reef, where you can try to catch the 'big one', all the while admiring the distant views of the soaring, cloud-forested peaks of Rarotonga. Or better still, explore the inner realm by scuba diving in some of the clearest, cleanest waters you will ever see.