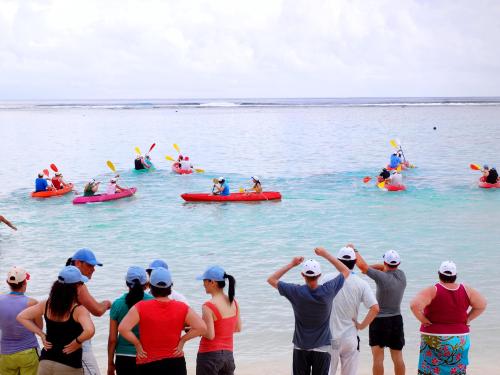 Group Events
Corporate Events
CLICK BELOW to view our Groups & Events Presentation
Are you searching for the right destination for your next conference or incentive group event? Are you looking for somewhere your group can reap some of the rewards of hard work? Or maybe somewhere relaxed where fresh new ideas from left field might emerge and flourish?
The Cook Islands offers conference and incentive delegates a world of difference. The Rarotongan Beach Resort & Lagoonarium's Marketing Director, Liz Raizis, says the Cook Islands gives organizers and delegates a whole tropical island 'playground' with a lot more to offer than other South Pacific destinations.
"Once you've landed at Rarotonga International Airport, you're just 10 minutes away from The Rarotongan and its prime beach and lagoon location. No time or energy wasted on connecting light-plane flights, 2-hour coach rides or boat trips.
SMALL BUT PERFECTLY FORMED
The Rarotongan Beach Resort & Lagoonarium has been playing host to an increasing number of Australasian corporate and government groups. One of these was the over 100-strong incentive group from Mannatech Australia whose General Manager, George Howden, said afterwards: "We try to pick a location that's unique as a reward for our folks, one which will create good memories for our people, somewhere new and different where it's likely they wouldn't have already been.
"Originally we were looking at another property on Rarotonga, but that wasn't going to suit. We then luckily stumbled across The Rarotongan. We just loved the place. "The location is unspoilt, the food is superb, the ambience was relaxing and the help and assistance we were given was just fantastic. It was a great experience for our group. In fact we loved it enough that I took the family back. I just think the place is fantastic," says George.
TURN JADED INTO JOYFUL
Taking your group to The Rarotongan is about achieving just the right balance for often-jaded travelers who've already "been there, done that", and need the stimulation of fresh experiences.
Says Liz, "About the only thing we lack as an island in the technology-department is traffic lights and parking meters - and who would miss those!
"And that's part of the huge charm of Rarotonga, the way that as a group you can attend to business, but then later on you can enjoy the most amazing things, like snorkeling straight off Aroa Beach in an underwater wonderland of reef fish right in front of The Rarotongan, or feeding them straight off the restaurant deck!"
WHEN'S THE BEST TIME TO TAKE YOUR GROUP?
So when's the best time to plan your group getaway? Anytime's just right. The people are always sunny, the weather is always tropical and generally stable year-round, the experiences are always uniquely memorable. December through to May is an especially good time because that's when mangoes, pineapples, frangipanis and fiery-red flamboyant trees are in season, but then again whale watching time around July is also great. The Rarotongan also offers some exceptional special deals for travel between November to May, which is a great time to bring a group as this is outside the peak season but takes advantage of the best weather! In the end though, it's always about what's right for your group.
NEW CORPORATE GROUPS BROCHURE
The Rarotongan Beach Resort & Lagoonarium and its sister resort, The Aitutaki Lagoon Resort & Spa - which offers conferencing facilities for small-medium size groups - have now released a new groups brochure called "Take Your Meeting On Location".
Email info@rarotongan.co.ck for your copy.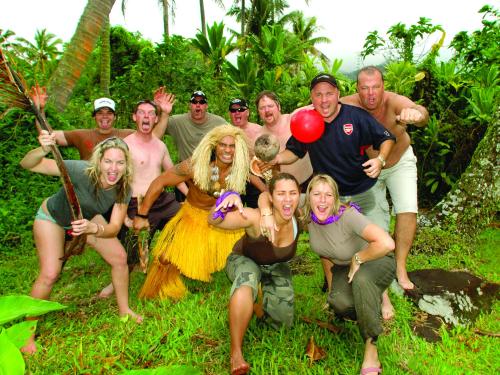 Team Building
Most groups coming to somewhere as special as Rarotonga want to balance business with pleasure, and this is the perfect place for play. It's a compact but fun-packed area which provides truly unique team-building opportunities.
Says The Rarotongan Beach Resort & Lagoonarium's Marketing Director, Liz Raizis: "Our Groups Manager and her team have developed some really fun tailored activities and events, themed to suit the style of the group and achieve its goals for team building.
"Not long ago we had a medium-size group in the liquor business stay with us who booked a fully-tailored Team Building Event packed with some incredible round-the-island activities including a jeep treasure hunt which our Groups Manager developed for them. They were completely stoked, had an absolute blast, and went home with great memories of their unique company conference and all their special events with a difference at The Rarotongan.
SURVIVOR, AMAZING RACE AND FEAR FACTOR, ALL-IN-ONE
Whilst many groups take advantage of the wealth of complimentary activities available at The Rarotongan (quite probably the most extensive range of free activities anywhere in the South Pacific), others request tailored Team Building Activities, for which the resort is renowned.
Continues Liz: "Some of our visiting groups really want to take advantage of the unique location, so for them we arrange some amazing round-the-island 4WD safari-style hunts combining elements from Survivor, Amazing Race and Fear Factor, as well as our own Activities Team's long years of tried-and-true island experiences and local knowledge.
"Nothing builds team spirit like having fun together doing 'soft' island-style adventures and such challenges such as our unique range of Beach Olympics which we hold right here at Aroa Beach.
"And the way we can string such a huge array of completely diverse activities together like this all in the same day is very, very unique to Rarotonga," says Liz.
YOUR GROUP'S PLAYGROUND IN PARADISE
Once your group have arrived at Rarotonga International Airport they are approximately 12 minutes from The Rarotongan - no long connecting bus, plane or boat rides to their final destination.
Unlike most other South Pacific destinations you get the best of both worlds in Rarotonga, the full-service Rarotongan Beach Resort & Lagoonarium set right on a stunning white sand beach complete with all the comforts and conveniences today's groups demand, PLUS close, easy access to all the island's array of adventures, attractions, tours, shopping and activities.
The whole island as well as the resort itself is your group's playground in Paradise, and prices on Rarotonga are very competitive with similar destinations for meals, tours or shopping. Excursions include game fishing, scuba diving, golf, circle island tours, Cultural Village, Highland Paradise, nature treks, glass-bottom lagoon cruises, shopping for black pearls, Saturday island market, Sunday church visits and much more.
The Rarotongan's Groups Manager and her team would be delighted to use their extensive local knowledge to put together a tailored programme for your group incorporating your conferencing requirements along with team-building events either on-site or around the island, private dinners, and highlight events such as The Rarotongan's renowned 'Legends of Polynesia' Island Night Umu Feast & Drum Dance Show, the best in the Cook Islands.
Email us at info@rarotongan.co.ck for your copy of The Rarotongan Beach Resort & Spa's informative groups brochure, "Take Your Meeting On Location", and get the wheels in motion for your group's energizing escape to the South Seas.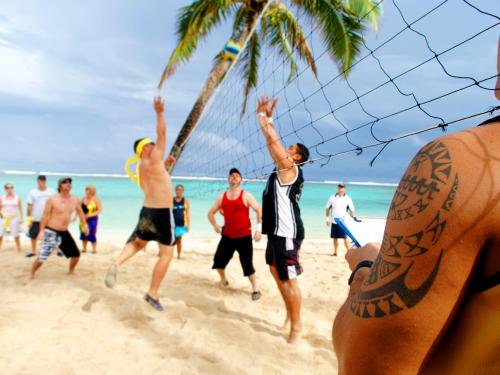 Planning
Our experienced, professional Groups and Functions Team are here to help you take the work out of planning your Group Event at The Rarotongan Beach Resort & Lagoonarium. We will work with your dates, your people, and your priorities in mind. We are here to make this Group Event a successful one for all of your participants, and will work closely with you to maximize the success of your event. Having planned and hosted past successful events, we know what it takes to make your event special and successful. Previous group events include Placemakers, Fisher & Paykel, South Pacific Leaders Forum, The Radio Network, New Zealand Prime Minister's Delegation, Air New Zealand Manager's Retreat, and more. Let our experience work for you.
Venues
The Rarotongan Beach Resort & Spa is the only Resort in the Cook Islands capable of offering a multitude of successful, diverse venues that are suitable for all aspects of your Group Event. Our highly-flexible Conference and Function spaces are appropriate for all group sizes, styles and events. We will cater to your individual group needs, and suggest which venue is most appropriate for which event. Our Treetops Verandah Room is our most recommended venue, as it is perfect for all occasions. During the day, it is a Conference Room, complete with data projector, whiteboard, flipcharts, television, DVD player, and podium, and is stocked with fresh ice water, coffee, tea and snacks. In the evening, Treetops Verandah Room is transformed into an elegant Cocktail Lounge, complete with your own private bar and Cook Islands art. Group dinners can be served here, with the privacy and seclusion you seek for your group. Looking for a more elegant group dinner location? Consider our Blue Lagoon Fine Dining area. With tables set right on water's edge, there is no finer spot to dine at the Resort. With a billowing canopy, and your own private chef, Blue Lagoon Fine Dining is the perfect choice for a discerning dining event. If it is a large space you require, you can utilize Te Vaka Restaurant, our largest venue. This opens onto a large deck that opens directly to beautiful Aroa Marine Reserve. Whatever your needs, The Rarotongan Beach Resort & Lagoonarium has the perfect venue for your group needs.
Menus
Working directly with you, our Function Planners can design a custom menu for your group. With an extensive and diverse Resort menu, as well as many Chef Dinner Specials, we can design a complete menu for your entire stay. Whatever your choice, whether it be casual island fare, or elegant oceanfront dining, The Rarotongan Beach Resort & Lagoonarium will deliver high-quality dining with that Cook Islands touch.
Tailored Activities
The many activities and excursions available both at The Rarotongan Beach Resort & Lagoonarium as well as throughout our beautiful island can be customized for your Group. Select from an established list of Themed Tailored Activities and Team-Building Programmes, or work with us to design your own! An example of our Group Activities is our Jeep Safari Treasure Hunt, which combines the thrill and adventure of exploring Rarotonga, with team-building exercises. If you want to stay at the Resort, we can arrange for a beach volleyball game, snorkel adventure, sea kayak races, and more. We can also arrange exclusive tours and excursions for your Groupo, such as a Raro Safari Tour, a Lagoon Cruise, a Cross Island Trek, and more. Have fun and strengthen your team at the same time!
Cocktail Parties
The Treetops Verandah Room at The Rarotongan Beach Resort & Lagoonarium is the perfect location for your Group's own private cocktail party. Boasting a private bar, a great location with elevated views of the pool and the ocean from treetop level, and a secluded, private feel, Treetops Verandah Room is our most popular spot for private cocktail functions. Special island cocktails can be custom made, or selections from our large cocktail, drink and wine menus are available. A complete menu of canapés and hors d'oeuvres can be offered. A special location providing a special event.
Meetings
The Rarotongan Beach Resort & Lagoonarium offers full Meeting facilities, as well as the service and selection you expect for your gathering. The privacy and seclusion of our Treetops Verandah Room is the ideal location for your meeting. A full array of Meeting supplies can be provided, including:
Data Projector
Whiteboard
Flipcharts
Television
DVD Player
Podium
Paper and Pens
Fresh Ice Water
Coffee & Tea
Snacks for Breaks

Our finely decorated Treetops Verandah Room features local Cook Islands artwork, carvings, and Tivaevae. While your meeting will be all-business, your surroundings will be all-Cook Islands.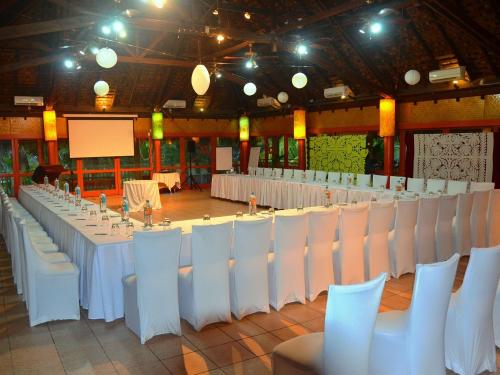 Conferences
"COOK UP A TREAT FOR YOUR CONFERENCE OR INCENTIVE GROUP"
Tough times demand smart solutions.
Take your team away from "sweating the small stuff" so you can focus on fresh thinking to turn your group into the winning team.
The winning destination for your conference or incentive group? The Rarotongan Beach Resort & Lagoonarium. Set right on Rarotonga's best white sand beach on the sunshine coast, The Rarotongan is also the ONLY resort set on the Aroa Lagoon Marine Reserve – the island's best snorkelling. Here at The Rarotongan your group can enjoy an amazing array of beachfront accommodation, function and event options …
Why The Rarotongan and Rarotonga is the ideal destination for your group:
Rarotonga is one of the most beautiful island paradises on Earth, right in the heart of the South Pacific
Exotic yet surprisingly accessible – just 3 ½ hours from Auckland
Just 10 minutes from Rarotonga International Airport and you've arrived at The Rarotongan
Snorkel directly off The Rarotongan's beach in the Aroa Lagoon Marine Reserve for world-class snorkeling
Island adventures only minutes away (eg diving, fishing, mountain safari, golf)
The Rarotongan offers such successful, exclusive tailored team-building events as the Raro Amazing Race + Aroa Beach Olympics
Themed Functions include In-Lagoon Breakfast, Seafood Gala Dinner, Blacktie + Jandals Awards Dinner and many flexible function / meeting spaces
Rich, vibrant Polynesian culture with genuinely friendly, English-speaking people who are easy to get to know
Very affordable and cost-effective (currency is the New Zealand dollar!!)
Not overdeveloped or over-commercialized – no hawkers, no buildings taller than a coconut palm, yet still equipped with modern conveniences - wireless internet, ATMs, supermarkets, restaurants & cafes
Uncrowded & unspoilt – imagine a pristine white sand beach all to yourself!
Safe traveling, peaceful society with low crime rate
Exotic nature but no snakes, poisonous spiders, scorpions to contend with on land, no sharks, stinging jellyfish or rips in the lagoons, no malaria
A true South Seas island paradise.

If you're searching for the right solution for your next group event, email groups@rarotongan.co.ck for a Conference Kit, Groups Brochure or Group Events DVD. Refresh, inspire, incentive.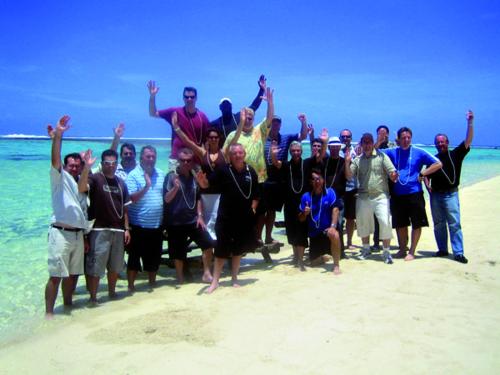 Family Reunions
Looking for that perfect tropical location to gather your family for that long-awaited Family Reunion? Look no further than The Rarotongan Beach Resort & Lagoonarium. The Cook Islands Signature Resort is able to host you and your family for a fantastic tropical adventure. We will work closely with you in designing activities, excursions, menus, private cocktail parties, private dinners, and fun social events just for your family. With our private Group Venues, our extensive list of complimentary activities, and our tour desk, the sights and adventures of Rarotonga will be yours.

Our Tailored Activities will have you doing many of our activities and excursions as an exclusive family group. Planning your Family Reunion around a specific event? Let The Rarotongan do the work for you. Whether it be a Wedding in Paradise, Renewal of Vows for that special Anniversary, or a Tropical Birthday Surprise, your family will feel special, and will be given the service and amenities to help make your Reunion a lifelong memory.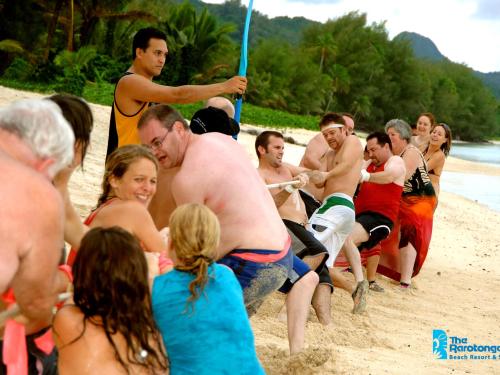 Birthday Parties
Planning a special Birthday Party? There is simply no finer location to enjoy this happy event than the shores of Aroa Lagoon at The Rarotongan Beach Resort & Lagoonarium. For your birthday group, we will plan special activities and group excursions. For your special Birthday Party, we can arrange a private cocktail party and dinner in the privacy of our Treetops Verandah Room, or we can serve an elegant dinner at water's edge at Blue Lagoon Fine Dining, with your own private chef. Our Tailored Activities will keep you and your birthday group together and happy. What a great place to celebrate a birthday!